Tax University
BECOME AN IRS REGISTERED TAX RETURN PREPARER IN 6 WEEKS
Certificate of completion
IRS CE & CPE credits (optional)
Lifetime Support
Interactive Self Study platform
weekly live webclass 
In person Instructor-led hands-on training
IRS PTIN Registration 
Bonus: Business Tax Preparation Courses & Certificates (Partnership, LLC & S-corp.)
Join one of the TOP EARNING INDUSTRIES!
with guaranteed employment opportunity upon successful completion
THE ONLY FEDERAL TAX COURSE THAT COMBINES LIVE WEBCLASSES, SELF STUDY, IN-PERSON TRAINING AND LIFETIME SUPPORT.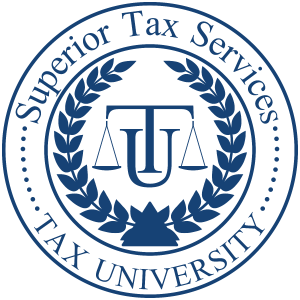 Weekly LIVE Instructor-led Webclass
As soon as you enroll, you'll be assigned a skilled tax prep. instructor who will lead and teach weekly live webclasses on various tax topics. The instructor will serve as your trainer and guide throughout the course (and beyond!). You will also have lifetime access to support in our private community of tax professionals.
Hands on In-person Trainings
Our annual 3-day in-person hands on training will be available exclusively to students whom have successfully meet the course and PTIN requirements, held early January in Atlanta, GA. On day 1, students will receive an offer of employment, marketing and start-up kit and their professional tax software download. On day 2 & 3 participants will have hands-on tax preparation stimulation training to learn how to prepare real life tax returns. "Real life" case studies give you the opportunity to test your skills in preparing sample tax returns for different taxpayers and small business enterprises. These are designed to fully familiarize you with the various tax forms and schedules you will use as a tax preparer.
Self-Study Platforms
6-weeks or 12 months? Your choice.
Go at your own pace online using our interactive self study platform on any smart device—computer or tablet. There are about 18 units, each unit takes about an hour on average to complete. Students can receive certification in as few as 6 weeks—or spend as much time as desired, up to one whole year.
About Tax U
Tax University, our virtual tax preparation course, is your gateway into the tax industry. Our 6-week federal tax course is designed to teach you the fundamentals of professional tax preparation. We'll go a step beyond the basics with both live webclasses and in-person training.
Unlike any other federal tax course on the market, this hands-on approach will prepare you for the day-to-day situations of a tax preparer while equipping you to lead in the industry. Tax University will also cover professionalism, ethics, marketing, and more! 
Successfully completing our online tax course will guarantee an employment opportunity. You could join our team of world-class tax professionals.
If you currently have tax-prep experience and are interested in starting your own tax firm, inquire about our Sub-Office Franchise Opportunities to BYOB "Become Your Own Boss," and learn how to start your own tax prep business & WYA "Work From Anywhere"
Course Subjects & Outline:
Week1: Intro, Compliance IRS Circular 230, Filing Status, Dependents, Income
Week 2: Adjustments to Income, W2 Wages, Schedule -C self-employed profit & loss, Preparing Clergy Returns 
Week 3: Schedule D Capital gains & losses, Schedule E Supplemental Income & Loss, Schedule F Farm Income, Tax Depreciation
Week 4: IRA, Deductions, Credits, Child & Dependent Care Credit
Week 5: Education Credits, Other Taxes, Earned Income Credit, Pre-Season Update
Week 6: Review, Final Exam 
HAVE A QUESTION? WE'RE HERE TO HELP
CONTACT US