Even during the pandemic 97% of our clients received their tax refund on time with no delays and a high percentage are approved for a cash advance
Tax Refund Advance
Get your refund faster with us! Some of our clients have financial obligations and need to use their tax refund now — not when the government finally decides to issue a refund. As a result of the Covid-19 pandemic we've seen IRS processing delays as long as 1-year. Even though processing delays only impacted a percentage of tax filers, at Superior Tax Services, anyone that's expecting a federal refund can apply for an advance payment. There is no credit check and loan approval is determined by our partner bank, based on your refund history.
We know it's your money and that you may need the extra funds for medical bills, personal needs, or other expenses. After you give us e-file authorization and opted to apply for a Cash Advance our partner bank will determine your eligibility for a refund advance up to $6,000. The application is free you will never be charged additional fees to apply. You can choose the no-interest option (up to $1,200) and the loan will be absolutely free with no added interest or fees.
These cash advances aren't based on credit, so you don't need to worry about a credit check being performed. With a Same-Day Cash Advance, you can receive a cash advance on the very same day your tax return is prepared & within minutes of it being is accepted by the IRS! This advance is a loan that will be repaid with your tax refund. File On The Go to get started.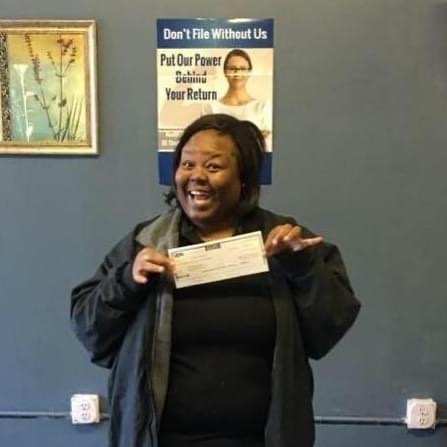 Another way that Superior Tax Services is the best choice for small business or individual tax filings is our filing on-the-go service. We can work virtually with you, making it easy to file a complicated tax return online — let an expert prepare your personal taxes or even your business taxes! File on the go is different from regular online tax prep services in that your taxes are filed from home or anywhere that you are — by an expert — and e-filed for you, as opposed to traditional tax prep services. We understand that your time is valuable, and we're ready to make sure that our detail-oriented services are available when you need them most. Click the button below to get started the today.
When you schedule an appointment with your tax expert you will meet with them face-to-face via zoom in the comfort of your home at your convenience. If you choose the File On The Go option your taxes will be prepared by an expert as well except, this process allows you to get a head start on sending your documents through our secure portal or mobile app and your tax preparer can start your return without having a scheduled appointment – your Tax Expert will contact you once your return is complete and before it is efiled. Both filing options allow you to seamlessly have your taxes prepared by a Tax Professional and have direct contact with them. Get started now by choosing an option that's best for you! You can always Book A Call first, our consultations are always free.
Business Tax Preparation
We're experts in the tax field, and we understand the intricacies of filing taxes for small businesses. Tax Prep is not just what we do, it's who we are. You may need a CPA for other things but you need a Tax Professional who specializes in reducing tax liabilities to ensure the lowest possible tax bill or biggest tax refund. We look at each circumstance carefully and ensure that your options are maximized and exhausted, we don't leave money on the table. For Sole-Proprietors, Partnerships and LLCs, we understand tax filing requirements and regulations and how to ensure you don't miss any credits to keep your business stabilized and more of your hard earned money in your hands. business owners are eligible for a free tax evaluation, space is limited, schedule an appointment to reserve you free tax evaluation.
Reaching Your Tax Date On Time
Ensuring that your tax filing is completed on time is essential to avoid penalties and fees from the IRS. Even if you're granted an extension, having a tax preparation expert can make sure that everything is filed promptly and correctly. Part of our tax preparation services includes making sure that you and your business meet every deadline, reducing your tax liability and potential late fees.
Tax Deduction
One way that many people get tripped up when filing their own taxes and preparing their own tax returns is falling for myths about tax deductions. At Superior Tax Services, we know the facts and understand the intricacies of tax filing. Our professional team can help you maximize your tax refund by finding ways to maximize your deductions and tax credits.
Understanding what to deduct as a business expense can save small businesses plenty of money when it comes to filing taxes, too.
Having a professional tax preparation service guide a business owner through the pitfalls of the tax code can keep a business out of trouble with the IRS. Plus, a professional tax preparation service can answer all the questions you have about "What documents do I need for tax filing?" by helping you keep track of them throughout the year. This is why having someone who is working for you and understands the importance of the facts about tax deductions is so essential.
Choose Superior Tax Services for Your Tax Filing
With our flexible filing opportunities and our depth of knowledge about filing taxes for both small businesses and individuals, Superior Tax Services is the obvious choice for tax filing services. We offer on-the-go tax filing as well as personalized analysis of your tax circumstances. We can even arrange for an advance on your tax refund, getting you money fast! Contact us today to learn more — and don't miss a deduction ever again! Having a professional file your taxes can save you time and money, and when it comes to the many changes that Covid-19 has made to tax prep & filing, Superior Tax Services is unsurpassed. We understand just what businesses and individuals need. We pride ourselves on staying current on tax code, trust, accuracy,  affordability, and accountability. Our team of tax professionals features seasoned experts in tax filing and can ensure that you don't leave money on the table. We work hard to find all the credits that you're eligible for and never miss any deductions.
Schedule an Appointment
Schedule an appointment with your Tax Professional by clicking the name of your preparer of choice. If you do not have a preferred preparer select "New Client". If you have any questions regarding tax preparation we highly suggest that you Book A Call first, for a free 10 min consultation.
HAVE A QUESTION? WE'RE HERE TO HELP
CONTACT US